In light of ongoing developments resulting from the coronavirus (COVID-19) and the national move to delay or cancel large group gatherings as recommnded by the Centers for Disease Control and World Health Organization – and per the administration of the Georgia Institute of Technology – DramaTech will suspend all operations until March 29.
Additional, we have decided to cancel our production of A NEW BRAIN because of the uncertainty of surrounding the length of the suspended operations. Ticket holders will receive a full refund. Please allow 7 -10 business days for refunds to appear on credit card accounts. If you have any questions, please leave a message at 404-894-3481 or email info@dramatech.org. We apologize for any inconvenience that this may cause.
This decision was not made lightly and we understand the complexities of this situation. We apologize for any inconvenience, and look forward to welcoming you back soon.
Please check our website and social media for updates and additional information.
Who We Are
DramaTech offers a thriving theatrical laboratory environment at Georgia Tech that enriches the greater Atlanta community through innovative and diverse live performances. Founded in 1947, we are the oldest continually running theatre in Atlanta.
What We Do
As a theatre, we organize productions for public performance. As students with voracious appetites for knowledge of all kinds, we try to learn something in the process. With every show we try to create something that moves, inspires, or at a minimum entertains our audiences. These generally take one of the following forms:
---
Full length, large scale productions performed in DramaTech's home, the Dean James E. Dull Theater, located within the Ferst Center for the Arts.
We partner with arts organizations and students across Georgia Tech to showcase their talents in a two-night blowout in the Dean Dull Theatre.
While performed in the same space, these are shows that are smaller in scale, but still use some big ideas and technology.
At DramaTech, we have our own improvisational comedy troupe called Let's Try This! They perform regularly throughout every semester. Some of these shows are in DramaTech's theatre, but many take place in various locations all over campus.
DramaTech's newly-added tap troupe will show you the ropes to tap dancing lingo, steps, and routines.
Check Us Out
349 Ferst Dr, Atlanta, GA 30332 | Directions
Or Get In Touch
404-894-3481 | info@dramatech.org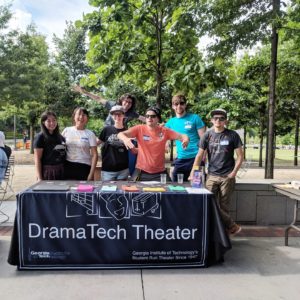 SaveSave
SaveSaveSaveSave